Dropping a Bomb on Black Metal's Future: A Conversation on Black Metal Rainbows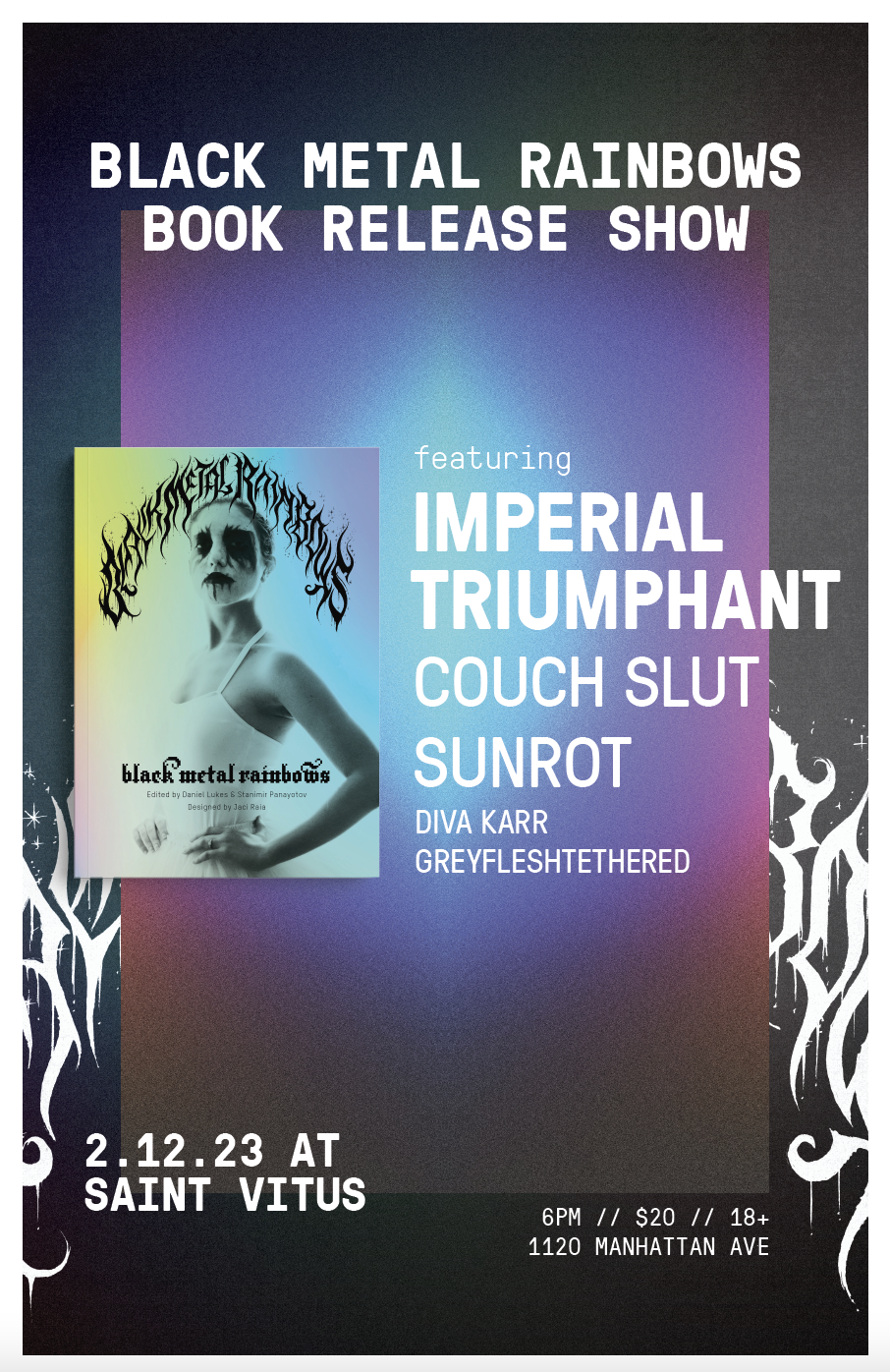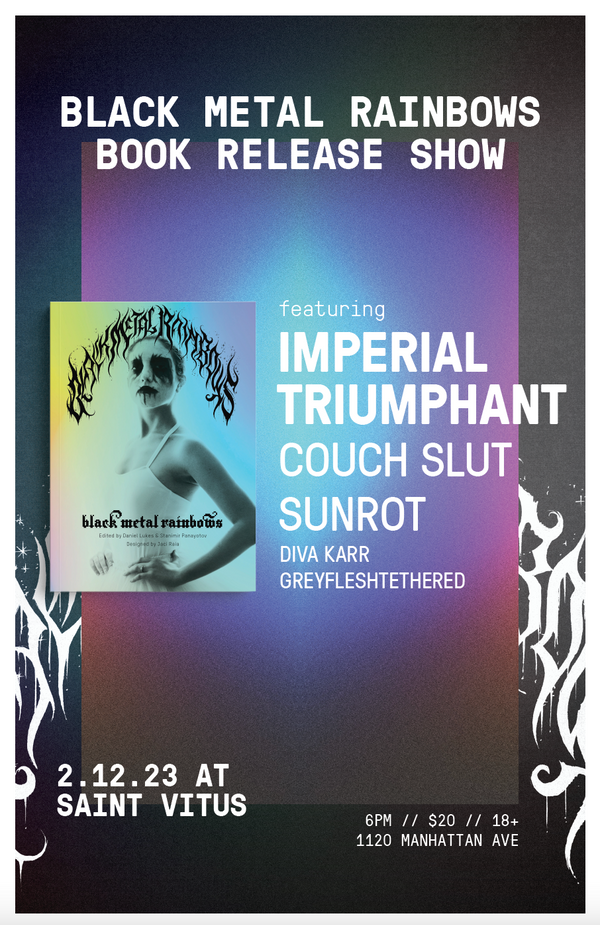 We first learned about Black Metal Rainbows a few years ago when they did a Kickstarter campaign to fund their book. The volume is an anthology of writing on black metal that takes a decidedly antifascist, antiracist, radical, and, perhaps most of all, queer, claim on the black metal scene. Despite the fact that black metal has often been tarnished by far-right and neo-Nazi artists and fans who want to make their stake their claim to it (just as they do with neofolk), a massive antifascist movement has emerged, bringing the creative explosion at the heart of the genre back to the left.
The book has now been released by PM Press and features amazing contributions by people like Margaret Killjoy and Kim Kelly, as well as radical artwork from across the aesthetic spectrum. Black Metal Rainbows is, to a certain degree, the black metal version of the project we have tried to do, to highlight the dissident voices that are reclaiming our most contested genres. I spoke with one of the editors of the book, Daniel Lukes, about the intention for the book, how it came together, and about fighting for the future of black metal and all "extreme" genres that have seen far-right entryism.
1: Where did the idea for this book come from and what is in it?
The Black Metal Rainbows project began life as a dream, which in turn was based on a New Year's Eve party organized by British band Akercocke in London in 2002.
The idea I took from this was: what if black metal was a party? In my dream, many years after that event, I had an image of black metallers congregating on some kind of mediterranean hillside at dusk, and the image of black metal as a global community stayed with me. The first iteration of this was the "Black Metal Theory Symposium" Coloring The Black, held at Gallery X in Dublin in 2015, with a goal of queering up and adding some color to the "para-academic" field of Black Metal Theory. The symposium featured a memorable contribution from Drew Daniel (of Matmos/The Soft Pink Truth) reading his paper "Putting the Fag Back in Sarcofago" in corpsepaint, a color-the-logo competition from "Lord of the Logos" Christophe Spazjdel, who was fresh off designing a logo for Rihanna, and us experiencing lots of pushback (and death threats) from Nazis. In other words, it was a good time.
After a well-needed breather, the next step was to coalesce that energy into a book. Our book Black Metal Rainbows, began in 2017 and finally published in January 2023, contains essays and rants, manifestos and confessions, glitter and gore, artwork and comics, design and danger. It's a love letter to black metal, a fuck you to black metal Nazis, and a middle finger to anyone engaged in scene gatekeeping or upholding boring, old hat ideas about what black metal should be. Black metal is joy and exhilaration and freedom and community and love: there is so much more to it than the stereotype would have you believe, and Black Metal Rainbows is a celebration of black metal's other dimensions.
Subscribe to the newsletter
2: How do you think people get black metal wrong?
I don't think they always necessarily get it wrong. Being an extreme artform, it is known for its most extreme elements, whether that is its predilection for grim and frostbitten scenarios, or sadly, more recently, its Nazi affiliations. We and many others see black metal as something to be fought over and won back from the people who belittle and limit the genre by trying to turn it into a fascist or conservative artform. Growing up in the 1990s, I never would have believed that John Major and the grey, dull-as-fuck Tories would be on the same side as some of my favorite black metal artists. It's a very depressing turn of events: black metal dreams big, traveling through the cosmos, and yet some of its practitioners reveal themselves to be deeply narrow-minded. Black Metal Rainbows is our attempt to show that black metal contains multitudes: it can be flashy and flamboyant, it can be a tool against oppression and misery, it can be community and care.
3: There's a new radical world of black metal emerging, how is it different? What makes it distinct, and what bands are leading the way?
Metal's queerness has always been there, and so has black metal's That said, there is certainly a new wave of extreme and black metal that is explicitly and openly made by trans, queer, leftist, and antifascist artists. As KW Campol of Vile Creature says in their blurb for the book "Black metal is the ultimate outsider musical genre, so it makes sense that us queers and weirdos would build a home within its barren fields. Black Metal Rainbows is a necessary anthology documenting the strong anti-oppressive backbone being woven into black metal's very fabric."
I think what sets today's wave of bands apart is a sense that since the stakes are so high right now, being coy about politics isn't really an option for many artists. Fascism is rising globally, capitalism is burning the planet, state power is being leveraged to oppress trans and queer people in new ways, police brutality against minorities and poor people continues unchecked: the future looks bleak and will be filled with upheaval. Things are definitely getting worse before they get better. Metal was always political, from Black Sabbath's "War Pigs" onwards, but for several decades it hid a little too much behind dragons and elves; now metal's repressed political consciousness is returning, and it's glorious to behold. Black metal, in particular, because of its well-documented Nazi problem, is a fertile terrain for de/reterritorialization: it needs to be reclaimed from fascists, and there are so many amazing and courageous artists engaged in that struggle.
Some bands of today I love, in black metal and beyond: Penance Stare, Gelassenheit, Biesy, Divide and Dissolve, Entheos, Backxwash, and Body Void.
4: Tell me a bit of the diversity of writing you have in the book, what kinds of content will people find?
We wanted many kinds of writing, from high-falutin academic articles to personal and journalistic essays. One of the best pieces in there is a strange and enjoyable theory-fiction by Joseph Russo about Texas called "Queer Rot": the kind of writing that mirrors or emulates the trance-like effect you sometimes get from listening to black metal. There are several pieces on the nature of evil in music (such as Langdon Hickman's "The Dialectical Satan" and Eugene S. Robinson's "When Evil Comes A'Calling"), an essay on black metal as witchcraft practice by Jasmine Hazel Shadrack ("Malefica: The Witch as Restorative Feminism in Female Black Metal Autoethnography"), and some considerations on how to fictionalize BM by novelist Catherine Fearns; there is a rousing manifesto by Margaret Killjoy titled "You Don't Win a Culture War by Giving Up Ground." It was important to us to showcase a variety of voices in a variety of styles. The art shows the many different visual faces of black metal, starting with the corpsepaint, which is black metal's signature visual element; the design is also a key component, bringing the rainbow out of the dark, and also looking ahead to glitchy futuristic scenarios. I am a big fan of 1990s modernist black metal, which did a lot of meshing with electronica and industrial and now is coming back in a big way. Hopefully in this book there is something for everyone!
5: What do you think the role of subcultures like black metal are in fighting against the far-right and building radical spaces?
Black metal is a recruiting ground for far-right radicalization, so of course it's necessary to struggle over that terrain. Not only are there far-right and pro-Nazi black metal scenes, particularly strong in Eastern Europe, but there are plenty of middle-ground centrist edgelords who both-sides the issue, claim to be apolitical, and call antifa and fascists the same thing. We call bullshit on this, and Black Metal Rainbows is our way of shining a light on the activity going on in antifascist and queer black metal scene building. There is a growing global network of progressive, antifascist extreme metal, and communities like the Antifascist Black Metal Network (also check out their YouTube) , and the RABM Reddit are evidence of that.
6: How can radical black metal fans build bridges with other communities?
Queer and trans culture is sometimes perceived in the mainstream media as fluffy, safe, pop (or "tenderqueer"), but as soon as you dip below the surface you see that there is a huge queer, trans, leftist investment into lots of dark subcultures, whether it's horror fiction, visual arts or extreme music. Gretchen Felker-Martin's Manhunt made a major splash last year, and queer and trans horror fiction is on the rise. David Cronenberg's Crimes of the Future was widely praised for the queerness of its body horror, which is visible when looking back over his career in general. In our small way, Black Metal Rainbows is an attempt to create a space that brings together queer and leftist politics and aesthetics, and shine a light on the fact that cis white men do not have a hegemony on making abject, ugly, and violent art. It's great to hear reports of Black Metal Rainbows materials popping up in queer spaces. But enabling metal spaces to become more queer-, women-, and minority-friendly is definitely something we hope this project will build towards.
In terms of bridge-building beyond metal scenes, fans can follow up and connect with the orgs that the artists they're into support and publicize. There are so many amazing extreme metal-related leftist and anarchist initiatives, labels, projects, who we have encountered in this journey, such as non-profit record label Food Desert Recordings, "anonymous extreme music collective" Non Serviam, animal welfare supporting label Fiadh Productions, leftist revolutionary record label Red Nebula. Bill Peel's forthcoming book Tonight It's A World We Bury: Black Metal, Red Politics makes a great argument that black metal can be used as a tool to destroy capitalism. Who would have thought that black metal could reinvent itself as protest music? So crank up your favorite black metal artist, pick your battle, do your homework in terms of tactics and safety, and go for it!
Subscribe to the newsletter
7: Tell us about the album that goes with this book. What's on it, and what does it benefit?
The Black Metal Rainbows Compilation Album came together in summer of 2022, but we had no idea it would get so big. 130 tracks, over eleven hours of music, and 100+ underground and black metal, noise, and electronic artists coming together in support of LGBTQ youth. Upon release it hit the #2 best-selling spot on Bandcamp (behind The Mountain Goats!) and by January 2023 it has raised over $10K+ USD for charities helping LGBTQ youth: The Trevor Project, Mermaids, Minus 18, and The International Lesbian, Gay, Bisexual, Transgender, Queer and Intersex (LGBTQI) Youth & Student Organisation. While the focus is black metal, there's a huge variety of musical styles on the album, from blackened grind to epic black metal, blackgaze to dungeon synth, noise to avantgarde. People have a preconception that RABM (Red and Anarchist Black Metal) is basically blackened grindcore, but assembling this compilation was a massive learning process in terms of seeing the wide range and creativity of leftist BM and affiliated genres that's out there. Anarchist post-black metal? Communist depressive suicidal black metal (DSBM)? Socialist dungeon synth? Search for it and you will surely find it.
Highlights of the comp include a to-die-for Depeche Mode-ish remix of Caïna track "Take Me Away From All This Death," a surf-rock cover of Darkthrone's "Transylvanian Hunger," a black metal-inspired track from Japanoise overlord Merzbow, and lots of creepy goblin-esque dungeon synth replete with trolls, pumpkins, bats and serpents. Special mention must also go to the amazing cover art by Montreal-based artist Wesley Cunningham Closs: who created a stunning and powerful set of images combining corpsepaint, the rainbow, and top surgery scars.
***
Make sure to pick up the Black Metal Rainbows Compilation album from Bandcamp, and join their upcoming release concert (featuring Imperial Triumphant, Couch Slut, and others) and opening book events in New York City, starting this weekend.
Black Metal Rainbows: A conversation with co-editors Stanimir Panayatov and Daniel Lukes (and Ravenna Hunt-Hendrix of Liturgy).
Center for Place, Culture and Politics, The Graduate Center
City University of New York
Room 6107
10 Feb, Friday, 4:30 PM
365 Fifth Ave New York, NYC 10016
Black Metal Rainbows: Book Launch and Panel Discussion
Housing Works Bookstore
11 Feb, Saturday, 5-7pm
126 Crosby St, NYC 10012
Black Metal Rainbows Book Release Show: Imperial Triumphant, Couch Slut, Sunrot, Diva Karr, Greyfleshtethered
St. Vitus Bar
12 Feb, Sunday, 7pm
1120 Manhattan Ave, Brooklyn, NYC 11222