July Horror Round-Up
A look at some of the best (and less great) horror books for the month of July.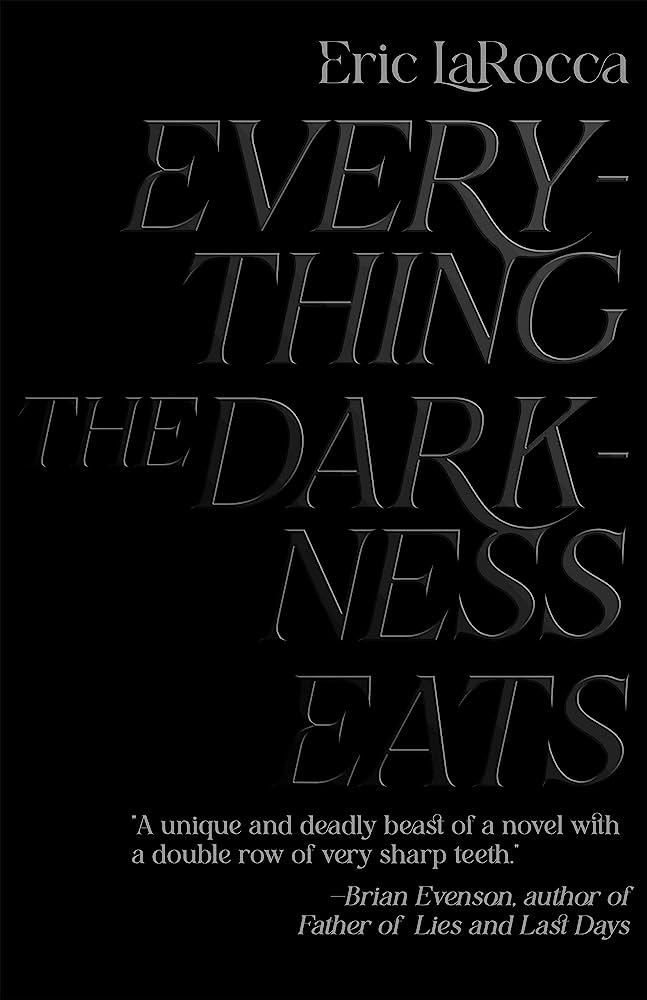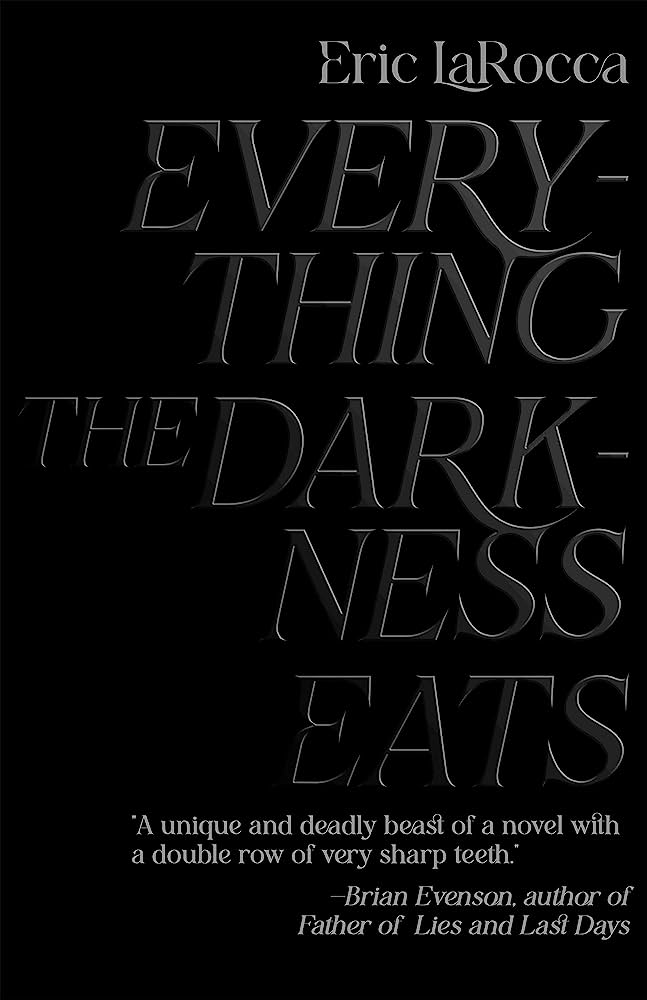 Everything the Darkness Eats - Eric LaRocca (CLASH Books) *Pick of the Month*
While I was excited to read Eric LaRocca's first novel, I didn't realize exactly how excited I should have been. By this point LaRocca should be incredibly familiar to most horror readers, especially those who have read these round-ups. He has released nearly a half-dozen grotesquely popular novella, including the smash success Things Have Gotten Worse Since We Last Spoke. LaRocca's storytelling focuses on his character's tragic descent into putrid transformations, the rotting of families and bodies, the distortions we make of ourselves when left to our own devices. Everything the Darkness Eats follows his model of tight, brief horror prose, this time broadening the cosmic horror beyond the bounds of everyday reality. The book tells interlocking stories, one of a widower unsure if he wants to return to a regular life, a queer couple trying to simply exist outside the city, and a man who thinks he has conjured God. This expertly written novel lodges LaRocca as a chief voice of New Queer Lovecraftian alongside authors like Margaret Killjoy and Hallie Piper, and those who like Mythos-styled stories will find this as an accessible entry point to LaRocca's work. Everything the Darkness Eats is an easy read to begin, hard to put down, and versatile enough that it should invite almost any kind of audience. This is not just the best horror book reviewed this month, it will likely be one of the best of the year.
The one drawback that is worth mentioning is that CLASH Books painted each page with this strange splatter design, which is both distracting and feels a little stylistically underwhelming. While CLASH Books is an incredible publisher of literary horror, this was a strange choice that lent the text a less dignified presentation than it deserved.
Night of the Ghoul - Scott Snyder, Francesco Francavilla (Dark Horse)
Night of the Ghoul is the perfect example of the type of horror fiction that is spreading across the comics world today, and while it is not the most innovative entry in recent memory, it is done with impeccable quality and attention to aesthetics. This began as a Comixology original, that was spread across six short digital issues and then Dark Horse ran it as a three-issue prestige series. Scott Snyder's writing matches the character-driven storytelling of Wytches, and he uses Hollywood as the backdrop for a spooky tale of folk magic. The book follows a horror aficionado who tracks down the filmmaker of the greatest missing horror film of all time who reveals the worst possible backstory: it was all true. From here commences an interesting dual story, the film they are referencing and the allegedly true story that runs before its production and after its creation. While Snyder perfectly paces the book and echoes EC Comics without allowing it to become redundant, it is Francesco Francavilla's art that really makes Night of the Ghoul work. Francavilla has been known more for his horror covers than story art, but for anyone that enjoyed the brief run of Afterlife With Archie, Francavilla's story panels keep just as much of the rich color work and texture that makes his covers such a favorite. While Night of the Ghoul will not break any records for creativity, it is a masterclass on how to breathe life into a well-worn story.
Weird Horror Magazine: Issue 6 - Various (Undertow Publications)
While Weird Horror is a magazine rather than a book, it is both constructed more like a horror anthology and you buy it issue-by-issue on Amazon. This means that it acts more like a contemporary horror anthology, offered twice a year for $15 a pop. Though Weird Horror has become amongst the best horror magazines around (only exceeded by Nightmares Magazine), this may not be the best issue of the bunch. Stephanie Feldman's story "The Getaway," which engages the haunting images we often see on Google Earth, is the best of the bunch, followed by interesting contributions by Rory Say ("Farrow"), Tim Cooke ("Repetitions"), and Alexander James ("The Tumour Room"). This issue is also light on the non-story content, with just one short piece by Orrin Grey and a few reviews of uncommon books from the deep past. This seems like an intentional shift in the magazine's design, and while those nonfiction pieces are certainly not why people pick up the magazine, they do expand the content and helps Weird Horror to feel like it is still part of the magazine tradition. Weird Horror remains the magazine that horror fans should be watching, particularly those excited about the resurgence of Weird Horror as a sub-genre, but this may not be the best of its bunch.
It Came from the Multiplex: 80s Midnight Chillers - Ed. Joshua Viola (Hex Publishers)
Horror anthologies, as a sub-category within a sub-genre, are always on the hunt for a theme that could draw readers in and give authors enough to sink their teeth into. Hollywood and film has always been a useful source for short horror fiction because it is soaked in lore and mystery, particularly the silent film era and the studio glamor that followed. This is specifically not the piece, however, that It Came from the Multiplex hopes to reference: instead it contains stories drawn from the "80s Midnight Chillers," the b-rated horror movies that accompanied the VHS revolution. This proves to be fertile soil for the book's contributors, but while this works out well for seasoned authors like Orrin Gray ("Screen Haunt") and Stephen Graham Jones ("Coming Attractions"), this is not the most expertly crafted anthology of the year. The opening two stories take an interesting turn as Warren Hammon introduces a unique tale about a possible alien invasion, followed up by a direct sequel from Angie Hodapp that takes our characters in an even more demented direction. Most of the stories are so tongue in cheek that they are unwilling to even attempt to scare the reader, and instead seem to think that nostalgia, pastiche, and in-jokes will be sufficient. Some of these are done with relative skill (such as Keith Ferrell's body horror story "Cronenberg Concerto"), but others feel forgettable from the outset. Some are even worse than this, such as Kevin J. Anderson's "Special Makeup," which tries to play with Roma stereotypes and instead simply reproduces them uncritically. Beyond those mentioned, K. Nicole Davis also offers an interesting contribution with "On the Rocks," but none of the stories really become strikingly memorable. This is a fine beach read for those in love with the world of video schlock, but the stories by Jones and Grey will likely be found in another collection soon. For those who want to stick with the horror theme, Ellen Datlow's 2020 anthology Final Cuts does it with a little more precision.